Seraphim Silver Creations
Sterling Silver Jewelry with natural gemstones
Artist: Christine, Dogern, Germany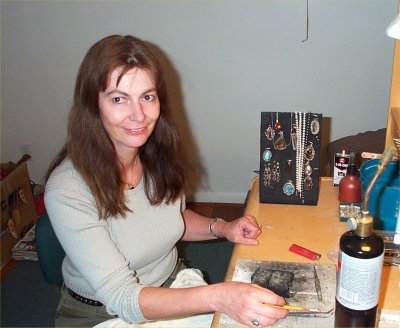 I have always loved silver jewelry and was first introduced to silversmithing 25 years ago in Germany by Gordon, a good friend of mine, who himself had picked up his skills during his globetrotting years in Canada and the States. Back then I tried to make a couple of jewelry pieces myself, but never really got started until now, a few months ago, when by coincidence I came across Don Norris' website and his CD "Beginning Silversmithing". As you can see, this amazing hobby went full circle again, as I live in Canada at the moment, where it all started.

The pieces, that are shown on this site, are all done according to Don's technique of using only hard solder for all the work. I must say, that I am really impressed by his way of silversmithing and his simple, as well as cost effective instructions. For all my jewelry so far I used a little propane gas torch as shown on Don's site, but I am planning to purchase a professional one sometime in the future.

My special interests are Native American, as well as medieval style jewelry. My next projects includes Lost Wax casting and I can't wait to try to cast leaves and insects, including a Black Widow spider charm on special request of my son Nick.

If you like any of the pieces on this site and would like to order one, please email me with the item # and I will give you the details. Even if it is already sold, I might be able to custom create a similar one, providing that I still have a suitable stone of your choice. I will be adding new pieces to the site, so keep on checking back from time to time. If you happen to live close to Penticton, Canada, you are always welcome to drop in for a cup of coffee and I will be happy to show you some of my work.

A special thanks again goes to Don. I will add a link to his site, in case that you are interested and also a link of my silver supply online stores here in BC, Canada and the States. If you would like to add your site, please feel free to email me.

---

Free counters provided by Andale.